In Memory
Erin Fannin (Pickett)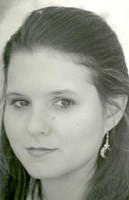 Erin Marie Fannin-Pickett, age 33, of Alvin, Texas passed away Tuesday, June 29, 2010 in Houston, Texas. Erin was born on March 19, 1977 in Webster, Texas and was a lifetime resident of Alvin. She was a registrar/attendance clerk for Alvin Independent School District.
Erin is survived by her husband, Greg Pickett of Alvin, Texas; parents, Christine and Fred Herman of Alvin, Texas; James Fannin and Janet David of Alvin, Texas; grandmother, Ruth Estep of Alvin, Texas; son, Ethan Pickett of Alvin, Texas; brother, Erik Fannin and wife, Jennifer of Pearland, Texas; and numerous other relatives and friends.
A memorial service will be held at 1:00 p.m., Friday, July 2, 2010 at Scott Funeral Home.
Arrangements under the direction of the Scott Family.